INTRODUCTION
Loki is rightly named as the God of Mischief, as he has very robust conquering inspiration inside him to rule the Asgard and to have his throne superior among all the others. Though he is the stepbrother of the great Thor but doesn't comprise of his nobleness or morality at all, as he always aspires to be the king of the dynasty and wants to establish his fierce rule all over. While apart from the unique picture depiction, the avatar of the character signifies Loki costume has been highly anticipated from many fancy styling enthusiasts as it is one of the most favorite attires to have on infancy gatherings. So we present you the intrinsic collection of some of the artistic outfits and gadgets compiled in the DIY Guide below which will give you prolific bold looks just like of your favorite aspired Asgardian character.
Items Required
Loki 2021 Coat
This grey coat has embraced Loki with the classy and stunning look that the God of Mischief deserves to own. This coat is made up from wool blend fabric and is further lined with soft viscose fabric lining on the inside. The stand-up style collar reaches all the way down to a snap tab button closure. The long sleeves end up with buttoned cuffs, and the two welted waist pockets can hold onto your belongings conveniently.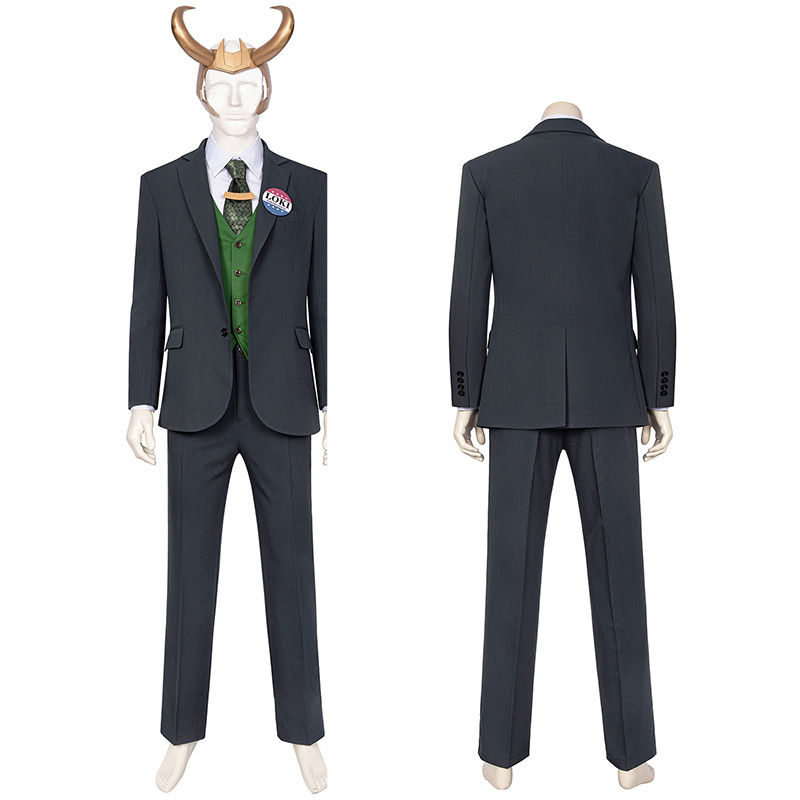 Loki 2021 Suit
Isn't Loki looking absolutely handsome wearing this blue blazer suit in the upcoming movie Loki? This suite comprises a blazer and a trouser, both fabricated from cotton material, that is breathable and lightweight. The blazer features a peak lapel style collar that is paired up with a two-button closure, long sleeves, open hem cuffs, two flap pockets on the waist, and a rounded hem. On the other hand, the trouser structures a straight fly, a zip fly, and button closure, and a double-needle stitched hem for extra durability.
Loki Cosplay Costume Product Page
Attire on this creatively crafted Loki Cosplay dress that is direct anticipation taken from the movie Thor – Ragnarok and is styled in the same bold fashion for meticulous fancy takeover fans of Avengers.
Golden Giant Horns Helmet Product Page
Take on this unique Loki golden helmet to attire completely in an Asgardian style so that you could attain high character imitation and stagnant looks among all in the party.
Cosplay Shoes Boots Product Page
Get attired with the intrepidly styled Loki Cosplay boots that are uniquely manufactured with bold subtle fashioning to give you perfect Asgardian emulation in the fancy themed gatherings.
Tom Hiddleston Loki Coat
Give your intrigued styling a new prolific look by taking on this Loki coat especially manufactured with flawless fabrication and artistic crafting for your seamless ornamental party green wearing dresses.
Child Green Cape Product Page
Entice up your fancy appearance with this unique green cape that is creatively fashioned to comply perfectly with your Loki Costume dress and to make you look elusively stagnant among all.
Blade Cosplay Costume Product Page
Complete your battling attiring ledge with this sword that is creatively replicated from Loki's combat armory in the movie and is adequately made to complete your enthralling Asgardian style.
Hoodie Zipper-Fleece Sweatshirt Product Page
This Loki hoodie is seamlessly manufactured from the riveting cognate styling of artistic class and quality that gives your appeal diligent smart looks whether you attire it on casual or formal occasions.
Loki POP Keychain Product Page
This unique Loki keychain is a finely crafted accessory that looks very adequate and precisely manufactured with creative artistry, perfect to fill up your fancy shelf if you are a true Asgardian Loki fan.
Loki Men's Tee Product Page
Take on this shrewdly manufactured smart Loki t-shirt that has been fashioned with quality cotton fabric material and in a cool nifty style for casual takeovers.
Conclusion
So if you are looking to attire up in a creative fancy style in Cosplay events, and is struggling to get an idea of what to go on with, this Loki Costume dress will surely be your perfect and final choice to get your astounding styling done, as we have compiled the guide with all the riveting apparels and gadgets which will give you perfect meticulous fancy looks of your favorite Asgardian inspired character.